16 Hands Closer To God, Trailvival & Camping Retreat 2023 (Free)
September 27 @ 5:00 pm - October 1 @ 5:00 pm
Free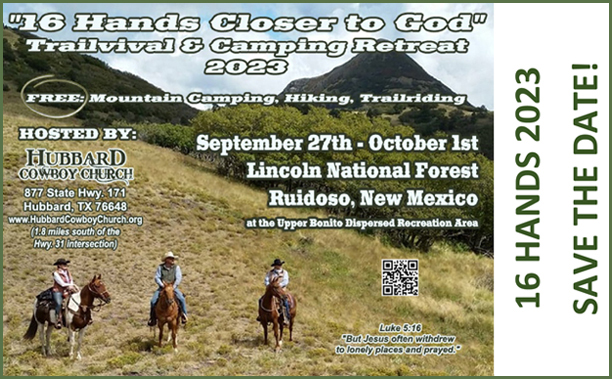 Hello,
My name is Butch Boatright, and I'm the pastor of Hubbard Cowboy Church in Hubbard, TX. I would love to invite you and your family or group to our 6th Annual "16 Hands Closer to God" Trailvival & Camping Retreat. Again, we are headed to the White Mountain Wilderness Area in the Lincoln National Forest near Ruidoso, New Mexico. The dates of this year's event will be September 27th – October 1st.
I was introduced to the Lincoln National Forest seven years ago. The pressures of life and ministry brought me to a place that I had to unplug from everything. There was a great need for me to make some time to spend with the Creator of All. As I rode horseback on the trails of the National Forest, a verse of scripture kept speaking to me. That verse of scripture was Luke 5:16 – "But Jesus often withdrew to the wilderness to pray". I saw firsthand the benefits of withdrawing from busy life and spending time worshiping God in the wilderness through prayer. This experience was so great that there was no way I could keep it to myself. I knew that I wanted to share it, so the Trailvival was born.
Our retreat is designed to give you that much needed time to disconnect from everything and reconnect (or connect for the first time) with God Himself. Before we hit the trails in the morning, we will have a group devotional designed to give you something to think about on your journey. During the lunch break you will be given time to lay back and soak up God's goodness. After another short devotional from your trail boss, you will continue your journey. After you finish your day of riding or hiking, we would like to feed you dinner. Once your belly is full, we would like to fill your heart with music from Bill Baker and Dale Rochelle (Waves of Faith), then some brief preaching. Our weekend will end with a short Service on Sunday morning, October 1st.
We had a wonderful time the last five times (2020 was cancelled due to Covid), and look forward to going back to the wilderness so that we can spend some more time with God Himself. Even if you don't ride, we still invite you to come hike, play games, or just hang out at the campground. I hope to be able to share an amazing experience with you, and will start praying that God will be more evident than ever to you through this amazing journey.
We ask that you would please RSVP by September 10th to ensure we have provisions for everyone. There is no cost to come and be "16 Hands Closer to God", but donations are certainly welcome to help defer the cost of meals, etc. All camp sites are primitive and are first come, first serve.
In Him,
Butch Boatright
For those that don't ride, there will be games available at the campground, and organized hikes on the nearby hiking trails.
For more information, call/text Butch Boatright at 254-855-3843, or call Brandon Childre at 903-229-8932.
GPS address of the event locations is: 33.464800, -105.801500
Get a taste of what attending this event is like: https://youtu.be/w_WGPXvjps0 or https://www.facebook.com/HubbardCowboyChurch/videos/2375411039370278/
If you are crossing the New Mexico state line with a horse, you will need current negative Coggins papers and a health certificate that is issued by an accredited
veterinarian within 30 days prior to entry into New Mexico. The destination address to be put on the health certificate is:
Lincoln National Forest
Forest Service Rd. 107
Nogal, NM 88341
575-354-2778
Linked group:
"16 Hands" Ride-share & Caravan Planning Group
https://www.facebook.com/groups/689222114750076